You'll probably be hard pressed to remember, but before Samsung's onslaught of announcements today, Xiaomi also unveiled the Mi 9. This phone also has a transparent special edition, that for now will only be available in China.
We already knew it would boast 12GB of RAM and 256GB of storage, as well as a back design that shows some components under the glass – although these aren't the real ones, mind you, that would have required an internal redesign. The look is inspired by Alita Battle Angel, apparently, but there's another difference between this version and a vanilla Mi 9.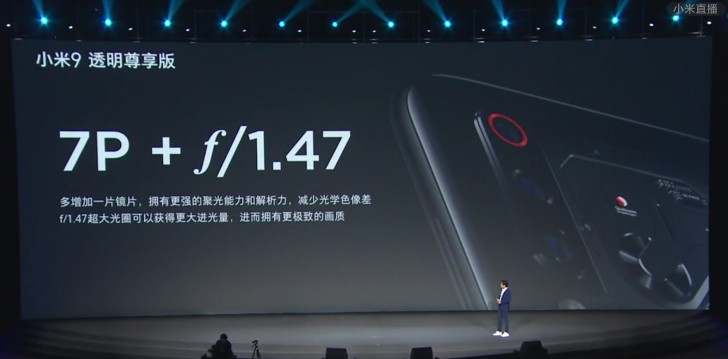 According to this slide shown at the presentation, the Mi 9 Transparent edition (which may be called Mi 9 Explorer) will have a special camera with f/1.47 aperture and a 7P lens. It's unclear which of the three rear shooters this will be, but we're assuming (and hoping) that it's the main one – with 48 MP resolution and the Sony IMX586 sensor.
This means the Mi 9 Transparent edition will let in much more light than the vanilla version, and more than any of its competitors at the moment – if only by a hair. Still, expect to see even better night-time photography coming out of this Mi 9 variant.
It will be priced at CNY 3,999, which right now equates to about $595 or €524. Hopefully the company will decide to sell it outside of its home market as well.
Via (in German)