In total, five Australian universities appear in the Global University Employability Ranking 2018, a new report on world rankings suggests. The University of Melbourne came out as the top university for graduate employability in Australia, followed by the University of Sydney and Australian National University. The 2018 rankings placed Monash University in fourth ahead of the University of New South Wales into fifth.
From the top 150 universities for employability, the University of Melbourne is the highest Australia-ranked university in 20th place, with the University of Sydney in 43rd. Australian National University is in 46th place.
The ranking reveals which institutions recruiters at top companies think are the best at preparing students for the workplace. US universities dominate the top of the list, with Harvard University, California Institute of Technology (Caltech), or Massachusetts Institute of Technology (MIT) snatched the top seats again. See the full results of the top 150 colleges and universities for employability, 2018.
Which universities will really impress the boss?
Top Universities In Australia Producing The Most Employable Graduates 2018
1. University of Melbourne (#20th)
2. University of Sydney (#43rd)
3. Australian National University (#46th)
4. Monash University (#60th)
5. University of New South Wales (#69th)
Infographic: Top Universities In Australia Producing The Most Employable Graduates 2018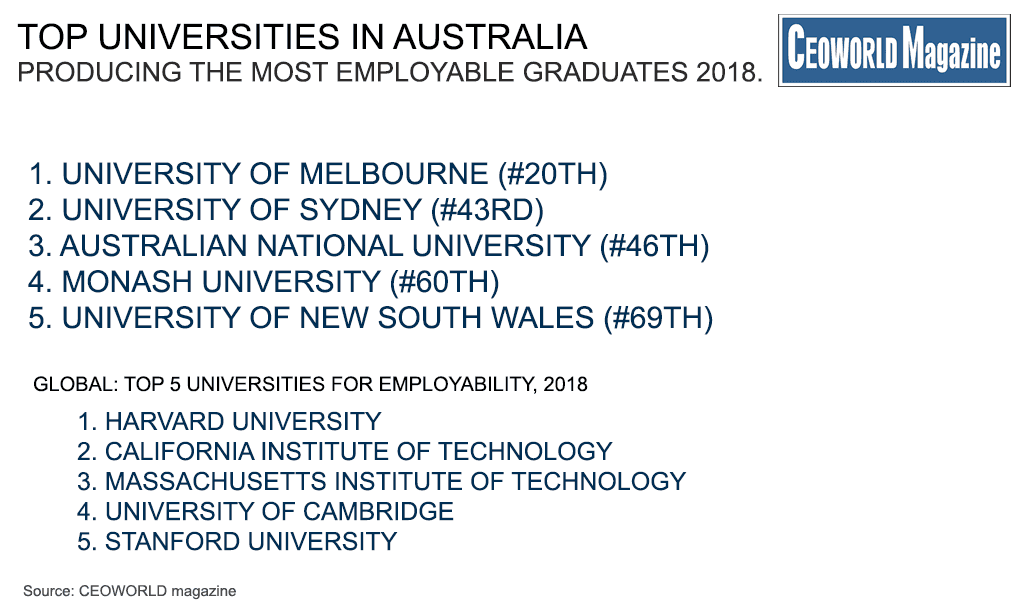 What's the best university name in the world to put on a job application?
Global: Top 10 for employability, 2018
1. Harvard University
2. California Institute of Technology
3. Massachusetts Institute of Technology
4. University of Cambridge
5. Stanford University
6. Technical University of Munich
7. Princeton University
8. Yale University
9. The University of Tokyo
10. National University of Singapore
Also read:
Top 150 Colleges And Universities For Employability, 2018.
Top 10 Universities In The Nordic Countries Ranked By Employers 2018.
Philadelphia native Mindy is passionate about creating lists about anything and everything. She recently moved to New York. Mindy is a frequent keynote speaker at prestigious conferences and universities in the United States and the United Kingdom.Her favorite Quote: "It's a funny thing about life; if you refuse to accept anything but the best, you very often get it!" Voracious reader. Writer + Editor + Philly girl.
Leave a Reply