In total, 10 British universities appear in the Global University Employability Ranking 2018, a new report on world rankings suggests. The University of Cambridge came out as the top university for graduate employability in the United Kingdom, followed by the University of Oxford and Imperial College London. The 2018 rankings placed King's College London in fourth ahead of the University of Manchester into fifth; while the University of Edinburgh ranked sixth, and UCL seventh.
Overall, among the top 10 Universities In the United Kingdom Producing The Most Employable Graduates 2018, the eighth, ninth, and tenth positions are held by the University of Bristol, London School of Economics and Political Science, and London Business School.
The ranking reveals which institutions recruiters at top companies think are the best at preparing students for the workplace. US universities dominate the top of the list, with Harvard University, California Institute of Technology (Caltech), or Massachusetts Institute of Technology (MIT) snatched the top seats again. See the full results of the top 150 colleges and universities for employability, 2018.
Top 10 Universities The United Kingdom Producing The Most Employable Graduates 2018
1. University of Cambridge (4th globally)
2. University of Oxford (11th globally)
3. Imperial College London (17th globally)
4. King's College London (29th globally)
5. University of Manchester (35th globally)
6. University of Edinburgh (76st globally)
7. UCL (84th globally)
8. University of Bristol (80th globally)
9. London School of Economics and Political Science (83rd globally)
10. London Business School (122nd globally)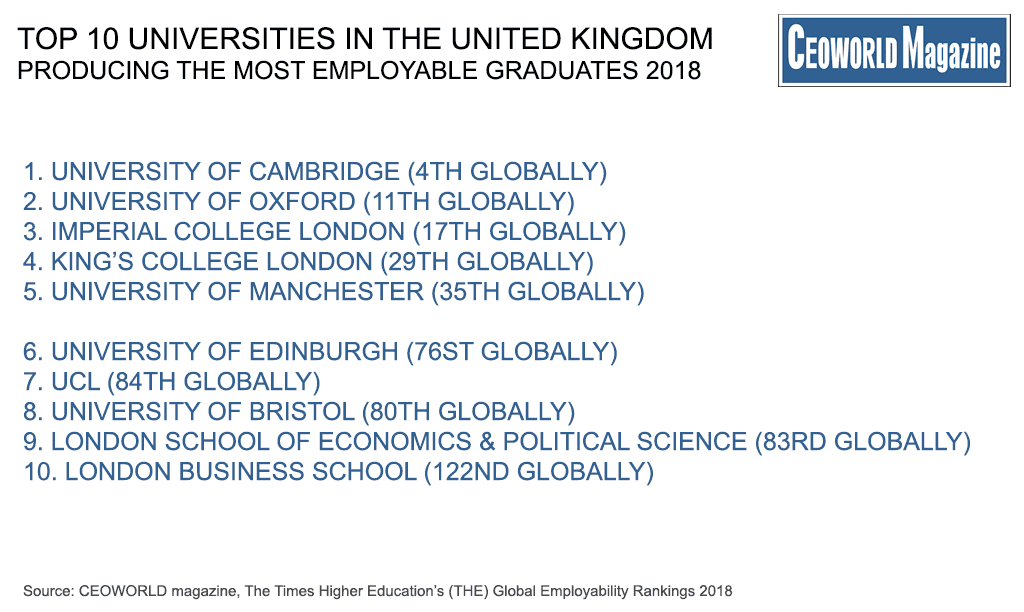 What's the best university name in the world to put on a job application?
Global: Top 10 for employability, 2018
1. Harvard University
2. California Institute of Technology
3. Massachusetts Institute of Technology
4. University of Cambridge
5. Stanford University
6. Technical University of Munich
7. Princeton University
8. Yale University
9. The University of Tokyo
10. National University of Singapore
Also read:
Top 150 Colleges And Universities For Employability, 2018.
Top 10 Universities In The Nordic Countries Ranked By Employers 2018.
Jessica Todd Swift is the deputy managing editor of the CEOWORLD magazine. She is a veteran business and tech blogger, journalist, and analyst. Jessica is responsible for overseeing newsroom assignments and publishing and providing support to the editor in chief.
Leave a Reply