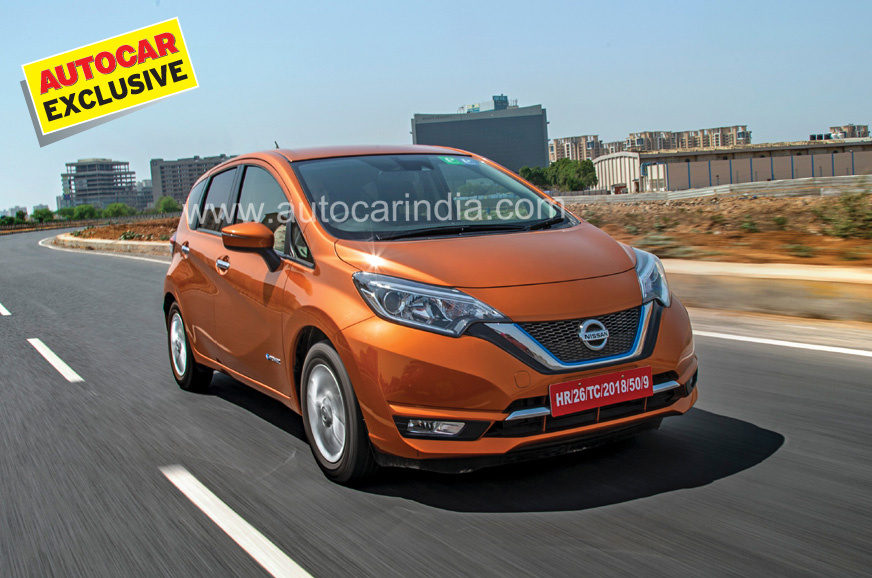 27th May 2019 7:00 am
Does Nissan's range extender technology hit the right chords or is it out of tune? We find out.
"Light's falling!" is something our camera crew yells out as they implore us to get on with our driving. Well, at least on our other shoots. This month, it was us pleading with the camera crew to get their shots done before the EVs we were testing ran out of charge.
Range anxiety is probably the biggest concern with electric cars. Sure, purchase costs are high and charging infrastructure sparse, but nothing compares to the worry of running out of watts. Having already tested quite a few electric cars before, and for this EV special issue too, range has always been a factor. Of course, the situation is getting better each day, but until then, a range extender is an interesting solution.
A range extender is essentially an electric vehicle, but unlike a pure EV, its battery is charged by an on-board engine. Basically, think of it as an EV carrying its own charging infrastructure. With both electric and internal combustion power sources, it's similar to a hybrid, but here, the engine never directly powers the wheels – it switches on solely to charge the batteries.
The benefits of this system are quite a few. For one, range anxiety is taken care of. And having to only charge the battery and never take the driving load directly, the engine can run in a very efficient state. This enables a very high efficiency figure, Nissan claims the Note e-Power delivers 37kpl. 
Imagine that, 37km to a litre of petrol from a large hatch; that would really set the cat among the pigeons. Nissan knows this and is working on localising the technology to bring costs down and is also trying to get this classified as an EV, since its motive power comes from an electric motor. You could argue this both ways. And in any case, if this tech does make it here, it won't be in this particular e-Note which is soon to be replaced, so we'll stay focused on the driving impressions only.
Fire-up the Note and if the battery has sufficient charge, it's much like a pure EV: silent. Moving off is similar too – silent and sprightly. Electric motors deliver all of their torque right from the get-go, so you get an instant boost off the line, and with no gearbox (EVs typically have only one motor-speed reduction gear) power stays linear all the way, but the acceleration does taper off with higher wind and rolling resistance – typical of EVs.
When the engine switches on you can hear it easily, and, at times, it's a bit odd, as the revs aren't in sync with your driving. For example, when you put your foot down the engine revs up, but only for a bit, while you continue accelerating. This happens to supply a quick charge to the batteries, but also stay in an efficient rev range. 
There are three driving modes: Normal, Eco and Sport. In Normal, acceleration is quick off the line and deceleration is what you would experience in a conventional car. In Eco mode, apart from lower power, engine braking is maximised to charge the battery. So lifting off the throttle causes enough retardation and you have to use the brake pedal less frequently; Nissan calls this one pedal driving. It works quite well and you can figure it out easily – such that you can manage slow traffic with the throttle pedal only. Sport mode also has a lot of engine braking for enhanced stopping and, of course, there's more power from the motor. Having the ability to charge on the go also meant I did use this quite often.
Mismatching engine revs and road speed aside, the Note is a very interesting driving experience. You get all the EV benefits like quick starts, clutch-free driving and silent running, with no range or charging worries. It's a great bridge to full EVs, but with strides being made with EVs, it's perhaps a little late. Still, priced right, the idea of 37kpl and lower emissions may sound like music to our ears.
Nissan Note E-power Specifications
Engine
3 cyl, 1198cc, petrol
Motor type
Synchronous
Power
108hp
Torque
254Nm at 0-3008rpm
Battery type
Lithium-ion
Battery capacity
1.5kWh
Fuel tank
47 litres
Boot space
532 litres
Length
4100mm
Width
1695mm
Height
1535mm
Wheelbase
2600mm
Click here for Nissan India models, prices, reviews, images, videos and more