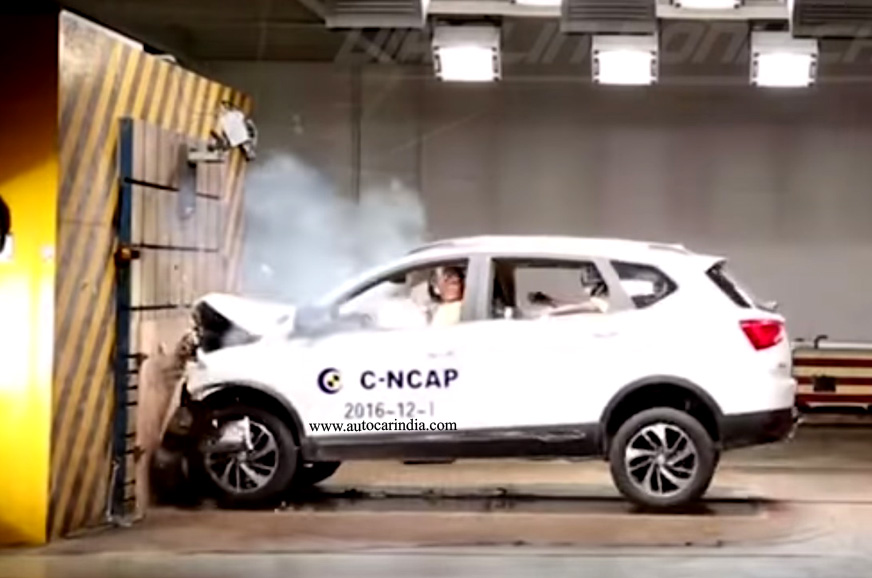 5th Nov 2018 7:00 am
After getting five stars in the Chinese NCAP, the car manufacturer plans to do the same in the BNCAP as well.
MG Motor is starting off its innings in India by launching a B-segment SUV in the first half of 2019. Safety will be given a high priority for all of the carmaker's launches in the country, as it aims to get a 5-star crash-test rating as per the proposed BNCAP safety norms. 
The Bharat New Car Assessment Programme (BNCAP) is the Indian derivative of the Global NCAP which tests new cars for safety. The program was conceived in 2014 but delays in setting up the facilities have led to the start of the program being postponed to 2019. As is the case with all NCAPs, the BNCAP will test new vehicles for frontal-offset crash testing, side-impact testing, pedestrian-protection testing and rear-impact testing.
As we reported earlier, Rajeev Chaba, President and Managing Director, MG Motor India, stated that the upcoming MG SUV will feature a pair of BS-VI-ready engines. He also mentioned that most MG products sold in China have received a five-star crash rating as per the Chinese NCAP norms. Similarly, MG Motor has set its sights on getting five stars for its vehicles in India as well.
Rajeev Chaba also spoke of the issues concerning the regulations for the proposed Bharat NCAP as the speed that the vehicles will be crash tested at is still unclear. Either way, MG is preparing its cars to get a five-star rating and be one of the safest in each of their respective segments. "I would say with great confidence and complete clarity on this issue that our cars are going to be the safest cars on the road", he added.
The first vehicle to hit Indian roads from MG's portfolio is a Hyundai Tucson-rivalling SUV. The MG SUV will be powered by a 2.0-litre turbo-diesel motor and a 1.5-litre turbo-petrol mill. On the outside, the SUV will feature LED headlights, tail-lights and dynamic LED turn indicators as those seen on the Renault Captur.
The MG SUV will get a premium interior with lots of goodies. There will be leather upholstery, powered seats, a panoramic sunroof, an electronic parking brake, cruise control and a free-standing infotainment system on offer. The MG SUV will be priced competitively – owing to heavy localisation of its parts – and will look to undercut the current segment leader: the Jeep Compass.