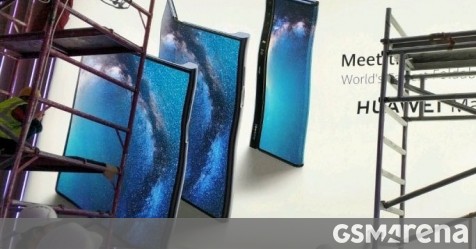 This week, Samsung unveiled its foldable Galaxy Fold and the race is on for the next manufacturer to put a foldable phone on the market. Huawei is likely going to be the next one as it gears up for a press event this weekend at the MWC.
A photo was tweeted showing working installing a display banner containing Huawei's device with a foldable display. There are a couple of workers and some scaffolding blocking the poster but we can pretty much make out everything on it. The photo was shot and tweeted by @gimme2pm.
#Huawei #MWC2019 #MWC19 huawei Mate X pic.twitter.com/cUV7POgF6r

— 红军第十九冠 (@gimme2pm) February 22, 2019
The banner shows a foldable phone opened and then halfway closed before showing it totally folded. The scaffolding blocks the first line on the banner but the second line reads: "World's first foldable 5G phone" (which Huawei did tease) with the words "Huawei Mate X" just below that. Huawei's foldable phone will just be called the Mate X.
The design is a bit different from Samsung's Galaxy Fold. Where the Galaxy Fold has an exterior display and then a main interior one that folds shut, the Huawei Mate X has a single display that wraps around the exterior of the phone. When closed, we'd only be using a section of the folded display.
This is an interesting take on the foldable phone, but we know that Huawei always has something else up its sleeve. We're excited to hear more about the Mate X and expect to see a high-end camera make its way here as well. In any case, Huawei's press event will be taking place this upcoming Sunday February 24 at 2PM local time in Barcelona, Spain.
At the event, we expect to hear more about Huawei's 5G vision and hopefully some new consumer products. We certainly won't be seeing anything about the Huawei P30, since Huawei has already set its announcement date for late-March in Paris.