Iceland has the highest per capita carbon dioxide emissions from the economy of any nation in the EU and EFTA, that's according to data from Statistics Iceland. Per capita emissions of tonnes of carbon dioxide went from 13.3 in 2012 to 16.9 in 2016 – far above the EU average, which in 2016 was at 7.3 tonnes.
The majority of Iceland's carbon emissions stem from air transport (33 percent) and metal production (30 percent), households only accounted for 10 percent of the country's carbon emissions.
Other economies with high per capita carbon dioxide (CO2) emissions in the top five are Luxembourg, Estonia, Denmark, and Holland. Emissions per capita within these top five countries have been between 11 and 17 tons of carbon dioxide per capita.
Countries With The Highest Per-Capita CO2 Emissions In EU and EFTA:
1. Iceland: 16.9 tonnes
2. Luxembourg: 15.2 tonnes
3. Estonia: 13.4 tonnes
4. Denmark: 12.9 tonnes
5. Holland: 11.2 tonnes
6. Norway: 10 tonnes
7. Ireland: 9 tonnes
8. Finland: 9.3 tonnes
9. Belgium: 9 tonnes
10. Cyprus: 9 tonnes
11. Czech Republic: 8.6 tonnes
12. Poland: 8.5 tonnes
13. Austria: 7.4 tonnes
25. Sweden: 5.3 tonnes
EU average: 7.3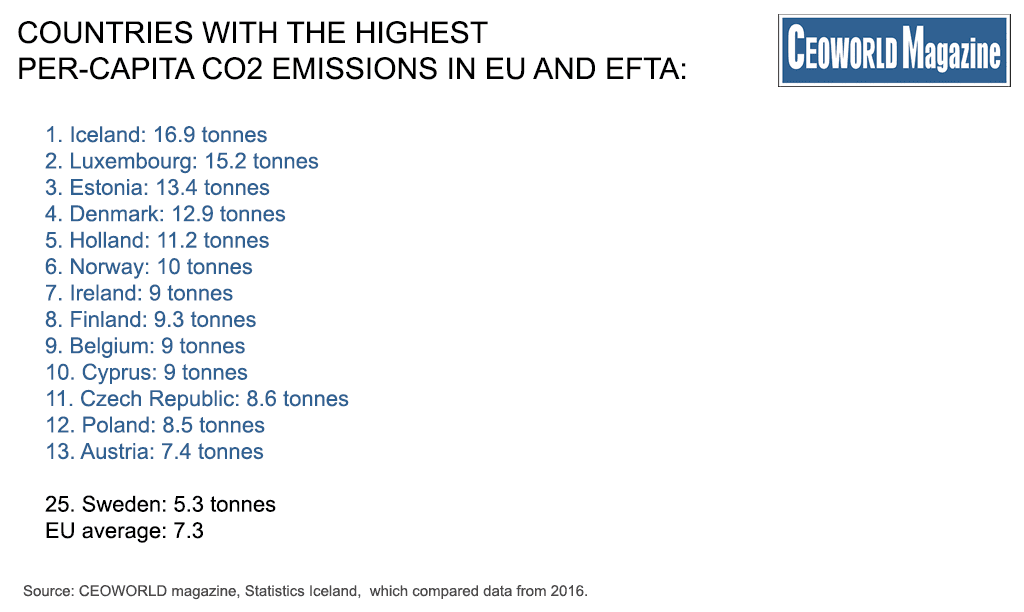 Dr. Amarendra Bhushan Dhiraj is the CEO and editorial director at CEOWORLD magazine, the leading global business magazine written strictly for CEOs, CFOs, top managers, company directors, investors, senior executives, business leaders, high net worth individuals, and the most globally powerful men and women.
Leave a Reply