In late October 2018, Coinbase CEO Brian Armstrong oversaw a financing round in which the Crypto Juggernaut he cofounded raised $300 million at a valuation of $8 billion.
At that valuation, Brian Armstrong's stake in Coinbase is worth an estimated $1.3 billion. Armstrong cofounded Coinbase in 2012.
Coinbase, the go-to exchange for cryptocurrencies like Bitcoin, has more than 20 million users, is extremely profitable and will likely generate $1.3 billion of revenue this year.
With those kind of numbers, Coinbase was able to attract Tiger Global Management to lead its recent investment round, and other big names like Wellington Management and Andreesen Horowitz also participated.
In August 2017, the San Francisco-based company, Coinbase raised $100 million at a valuation of $1.6 billion from six firms, including the prestigious Greylock Partners.
"The companies interested in investing in us know that this is the next wave of tech innovation," said Asiff Hirji, Coinbase's President and COO. "This was an opportunistic round. We didn't have to go out and raise capital."
Coinbase Revenue: 2016, 2017, and 2018:
In 2016, Coinbase's revenue was just $17 million.
By 2017, however, it had recorded a profit of $380 million.
It is now projecting that number will be $456 million in 2018.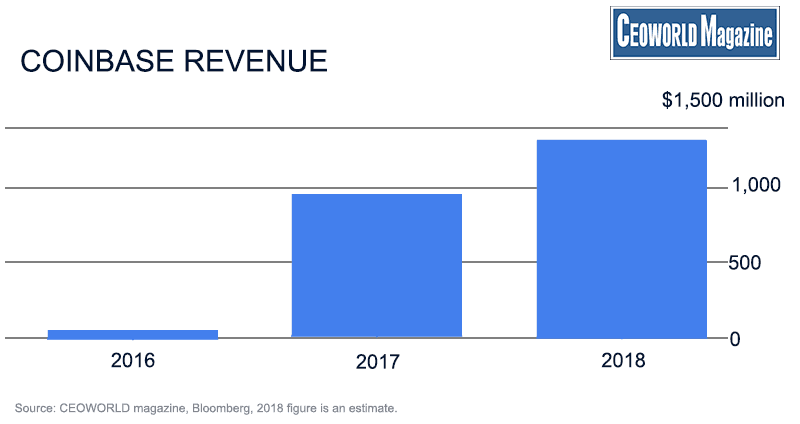 Philadelphia native Mindy is passionate about creating lists about anything and everything. She recently moved to New York. Mindy is a frequent keynote speaker at prestigious conferences and universities in the United States and the United Kingdom.Her favorite Quote: "It's a funny thing about life; if you refuse to accept anything but the best, you very often get it!" Voracious reader. Writer + Editor + Philly girl.
Leave a Reply