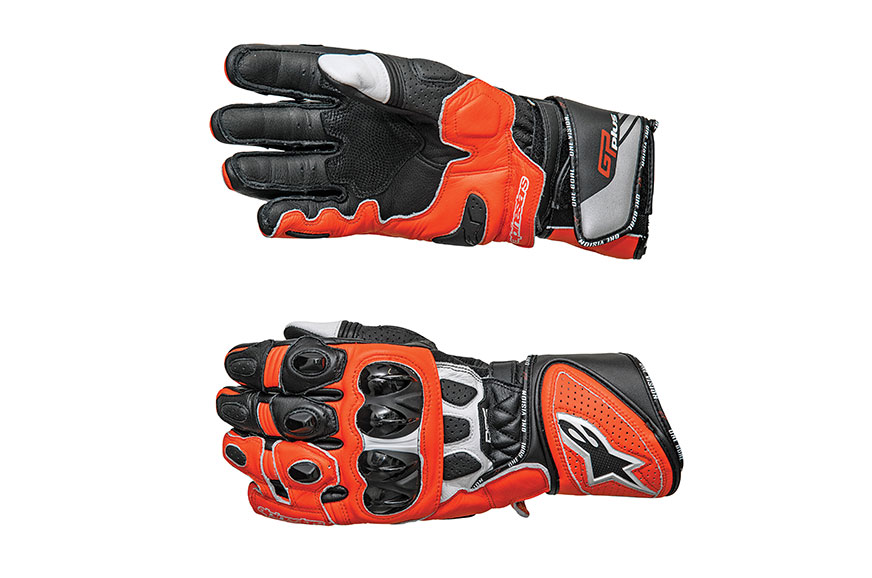 23rd Feb 2019 8:00 am
Premium gloves designed for the racetrack.
These are the third-highest track-spec gloves in the Alpinestars line-up and I've spent the last few months using them on all matter of motorcycles, including my daily scooter commute.
For starters, it's obvious that the GP Plus R is designed for the track. These are fairly stiff and take some breaking in. Even after a few months, I find that the knuckle area's fit is still very snug and all-day comfort is not a strong point. But to their credit, this is not something that bothers you while riding on the track, and that's what these gloves are designed for.
The materials used in the construction are traditional cow and goat leather, and you'll have to step up to the GP Pro R2 or the Supertech glove worn by Marquez to get the superior protection of kangaroo leather. The upper surface of the inside of the glove gets a Kevlar lining, as do the thumb and little finger. The protection scheme is comprehensive and includes a dual-flap Velcro wrist closure which ensures a secure fit. The knuckle gets a split, dual-density plastic protector, a material Astars prefers for its ability to absorb abrasion over carbon fibre.
Alpinestars' trademark connection of the third and fourth finger continues, and while this doesn't bother me, some may not like the sense of restricted movement it brings. The gloves have a nice pre-curved shape and the fingers get their own hard, plastic sliders. There's also a small slider on the outside of the little finger to protect from abrasion when it hits the tarmac.
There is some mild ventilation thanks to the few perforation holes in the fingers and behind the knuckle, but overall, this glove runs quite warm. The seams are all externally stitched, as you'd expect on a glove of this price, but I find that one of the seams on the left glove digs into the thumb, while the right glove has no such issue.
After a few crashes at the track I have come to appreciate having solid protection in the scaphoid area, where your palm instinctively meets the ground. And this is where the GP Plus R lets me down. There is an area of double leather reinforcement here, but in terms of sliders, there's just one on the outside of the palm, while the thumb side only gets some foam padding. Overall, Alpinestars claims a protection rating of CE Level 1.
These are the most expensive gloves I have owned to date, and while they are undoubtedly highly protective, I can't help but wish for a little more at this price point. If I were to do it all over again, I'd probably cough up a few thousands more for the incredibly protective Knox Handroid gloves. Next time then.
Where: planetdsg.com
Price: Rs 17,700